Building Your Rehab Repair Estimate Sheet Part 2 of 4
The first and most important skill of a flipper or wholesaler is estimating repair costs. Overestimate and you will never make competitive offers, underestimate and you can deal your business a fatal blow before you even get started. But how do you estimate costs when you've never rehabbed a house before? How can you know what a contractor will charge when you've never hired one before?
Part 1: "Why to create your own cost sheet" is here.
Part 3: "Pricing at multiple levels of rehab." is here.
Part 4: "Compartmentalizing costs to create a usable form." is here.
Before we can nail down what contractors and materials cost in our area, we first need to have a complete list of the items we will be pricing.
There are three primary sources that we used to complete our cost list:
Each of the three is useful for different things and is worth walking through briefly.
The Book on Estimating Rehab Costs- Jay Scott
J. Scott is a former Silicon Valley guy who now has a full time business working with his wife flipping house. He's a  power user at BiggerPockets.com and his blog has a tremendous amount of information, from case studies to business plans and more. He's partnered with Bigger Pockets to create two books on real estate investing: The Book on Flipping Houses and The Book on Estimating Rehab Costs. Both are great but the costs book was the cornerstone of beginning to build our own clear, brief and accurate cost sheet.
J. doesn't cover every single area of house repair, instead focusing on the areas that are the most common. The most useful thing about the book is the format which organizes information for each area of work the same way. You get details on what type of work usually happens in a given area, what its like to work with contractors specializing in that area and even advice about how to pay those contractors and how to go about getting materials.
J.'s costs aren't going to be accurate for every geographic area. Labor costs different amounts in different markets and material prices will fluctuate depending on markets and the level of rehab you will be doing. That said, this book is tremendous for the checklist and ballpark figures it allows you to collect. Not every rehab will be covered by the items in this book, but 90% probably will. For the final 10% let's move on to …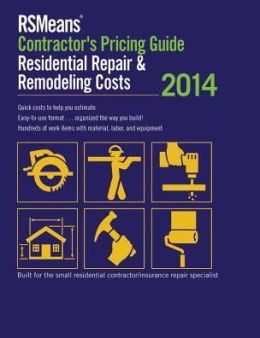 RSMeans- Reed Construction Data
RSMeans is a reference book for General Contractors. It's actually used to teach and train GC's at trade schools. Though good GC's will know their sub's costs and timeframes, this book gives a reference point when they encounter something they haven't seen before or when they need to pull an estimate together in a clean and detailed way. It contains everything you could possibly find in a residential project. In its over 300 full sized pages you will find sections on job prep, framing, finish carpentry and much more. Each cost page is broken down in an easy to reference manner that specifies a unit of measure, material costs, labor costs and equipment costs. This lets you break out these costs and match them up against contractor bids.
The RSMeans can be intimidating to read. Just keep in mind its intended to be a reference book, not a novel. We use it when we encounter something new or realize we don't have a broken down price point for a particular piece of work. We can always pull it off the shelf, spend a few minutes digging thru it and find an estimate for what something unusual costs. They also offer a paid and searchable online service at http://www.rsmeansonline.com/.
An important note! The RSMeans is intended for use by general contractors to make estimate. In other words, it's a book about estimating costs from the contractor's point of view. If your contractors charged you what you see in the RSMeans, they would just be breaking even and have to close up shop pretty quick. Every contractor (just like every rehabber) needs to put in a pad for profit and for surprises. Use the RSMeans to make sure those numbers are useful but don't try to beat your contractor down to a price that's going to ruin your relationship with them.
BiggerPockets.com is the most useful site for real estate investors out there today. It has over 200,000 users from seasoned flippers and contractors to part time brokers and newbie wholesalers. If you have a question, its likely someone has had it before and you can spend hours on the forums  digging up old and useful information for your business.
If you can't find your question already answered, then ask it! Creating an account is free and easy and we have gained tremendous knowledge just by checking in on the forums and creating new relationships online.
Just going through these resources can take a week or more. At the end, you are aiming to have a complete list of every item you think you might encounter in a rehab all laid out.
Next post we will talk about taking these items and using conversation with actual contractors to attach a price appropriate for your local geographic area. See you then!
By Nate Baumgart